About
The Client
KEDGE Business School is a leading French business and management school. Born from the merger in 2013 of two renowned Business Schools (BEM and Euromed Management), KEDGE Business School is active on four campuses in France, two campuses in China and four associate campuses.
KEDGE Business School has a large network of partner companies whose role and importance is twofold: they recruit trainees and work-study students taken from training courses and/or they choose to pay the apprenticeship tax ("taxe d'apprentissage") to the school. The school's need was simple: improve its knowledge of partner companies, know the movements of these companies (moves, insolvency procedures, terminations, …) and have a complete means of contact (postal addresses, telephone numbers, …) in order to consolidate and develop its network.
The Client's request
Have a database of partner companies, including their official registration numbers (SIRET) and other up-to-date strategic and operational information.
"
CARTÉGIE's teams advised us in how to update and enrich our database of partner companies. Thanks to these services, we can guarantee our students up-to-date and reliable company data for their business processes.
For the record...
KEDGE Business School called on the IDAIA Group to make the school's data more reliable and enrich it. In this way, the school could maintain a relationship of trust with its community of nearly 13,500 partner companies.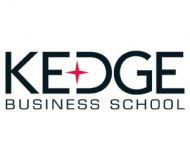 First of all, we carried out a Postal Address Verification (RNVP) of the file we were given by KEDGE in order to have reliable and homogeneous elements of comparison. Then, we reconciled the KEDGE Business School file with our BtoB data repository to enrich it. The ultimate goal is to guarantee a level of freshness of company data while improving customer knowledge. Thanks to an enriched business base, KEDGE Business School can:
– Increase its professional reputation,
– Develop its network of partners,
– Find opportunities for its students,
– Boost its budget thanks to the apprenticeship tax.
Actions implemented
Postal standardization of the KEDGE's file in order to obtain addresses to the current postal standard.

Enrichment of the company file with contact data (postal addresses, telephone numbers), additional strategic data (business sector, workforce, etc.) and geographical data.

Updates and detection of companies that have closed down or moved.

The file was returned to KEDGE Business School after 3 days.

Implementation of a company-listing web service (i.e., listing the Siret numbers of companies) to make incoming contacts reliable in a unitary and instantaneous way.
In summary
The KEDGE Business School Group has asked the IDAIA Group to:
Official registration numbers (Siret) for companies were processed in order to make the database of partners more reliable

Enrichment of the database with contacts and financial data

Support implementing the webservice
Result
A database of partner companies enriched in less than 3 days with up-to-date and quality data!