About
The Client
An Axa Group subsidiary, Direct Assurance is a distance insurance company created in 1992. A pioneer in digital insurance, the company is now the French leader in online insurance!
Without intermediaries, Direct Assurance guarantees the best price with offers and services that are simple, efficient and transparent. These are all values that we have taken care to put at the heart of our response.
The Client's Request
Rethink the referral scheme to engage its clients more and maximize the conversion rate of "leads created through referrals".
"
Play it simple: registration and referral should be made as simple as possible. Without forgetting that the user experience must be really fun and of course the reward really rewarding for both parties!
For the record...
The objective of Direct Assurance was to offer a more engaging and personalized marketing tool to target exclusively "ambassador potential" clients.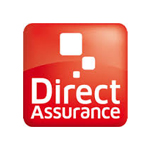 By defining an exclusive score identifying this profile and creating a marketing campaign, we enabled the company to value its most loyal customers and to offer an interesting referral offer for both the godchild and the sponsor. Established as true ambassadors of the brand, these clients had the opportunity to send their godchild a fully customizable email, message and visual, with a €100 check to share.
Actions implemented
A specially developed score allows identifying clients "with potential ambassadors" in their database, which will be hosted by the IDAIA Group.

The entire referral mechanism is created and developed by the IDAIA Group: system, dedicated mini-site, emailings.

The campaign starts with the first emailing to invite the "potential ambassador" target to participate in the referral operation.

Upon receipt of this email, the future sponsor connects to his personal space, then hyper-personalizes the invitation he wishes to send to a friend or relative: choice of fun visuals, proposal of differentiated messages.

The future sponsor proceeds to send this good plan directly from his interface, this one is obviously warned when a relative is interested in this offer of referral.

When the sponsored child takes out a contract with Direct Assurance, both receive their respective cheques.

The referral campaign is coming to an end. The analysis of the results and the conversion rate are reported and graphically displayed.
In summary
Direct Assurance asked the IDAIA Group to :
Advice and strategic support for the brand

Creation of a score to identify high potential profiles

Hosting of the Direct Assurance customer base

Graphical creation of interfaces

Analysis of customer returns
Result
A maximum conversion rate thanks to an operation carried out from A to Z by the IDAIA Group!