About
The client
Idéalsko has specialized in the distance selling of comfort shoes for more than 25 years and is a leader in the design, manufacture and marketing of high-end footwear.
The company has 3 exclusive brands: Helvesko, LadySko and Dansko combining choice, style and comfort.
Their "Nature Concept" positioning is resolutely focused on well-being and anatomical respect for the foot.
Idéalsko's brief entrusted to us
Idéalsko has a solid customer base of loyal but rather senior customers, and therefore – necessarily – aging customers. Their problem was therefore to renew their customer portfolio and find new customers, willing to submit orders through the paper catalog or via the website.
The challenge was to develop an effective and relevant multi-channel prospecting strategy based on well-identified profiles.
"
For a client, to opt for a multi-channel strategy is to increase visibility with its customers. Diversifying channels also means hitting new targets
For the record...
Idéalsko, whose head office is in Germany, chose Europrogrès (Alsatian subsidiary of the IDAIA Group) for their knowledge of the French market in the field of BtoC data, but also for their high-quality and overall support.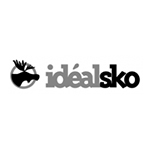 Idéalsko markets its products via its website and a catalog (sent out by post). Idéalsko does not have any "bricks & mortar" stores; in other words, they county exclusively on the website and the catalog to sell their products.
Idéalsko carries out prospecting twice a year:
– for the SPRING-SUMMER collection
– for the AUTUMN-WINTER collection
Working from these specificities, the Europrogrès team was able to develop an adapted media plan, in consultation with Idéalsko .
We opted for a multi-channel prospecting campaign: third-party advertising, press inserts and post office.
The objective of this strategy: Multiply the channels to allow for better visibility and increase their presence in the market.
All of these actions had a single goal: to significantly increase the opportunities to win customers.
Actions implemented
First of all, we needed to know and identify the concerned customer profiles so as to implement a personalized media plan and come up with a list of third-party retailers that might be willing to have Idéalsko's advertising materials included with their own products.

Result of our analysis: Idéalsko buyers tend to be rather elderly, live mainly in rural areas, have a comfortable income and are concerned about their well-being and the quality of the products they buy.

Once we had a viable customer profile, one of our main missions was to choose third-party retailers and magazines (books, etc.) liable to interact with Idéalsko's customer profile.

Once the third-party retailers brands/magazines had been selected, and pricing settled, we moved on to the media plan with a full launch of prospecting actions: third-party advertising, press inserts, mailing.

This led to Idéalsko inserting its brochure, including the season's best-sellers, in the packages of third-party retailers, previously targeted.

In parallel, Idéalsko sent their catalogs via behavioral postal addresses selected in advance.

At the same time, Idéalsko carefully selected a number of magazines, and inserted advertising material for all its flagship products.
In summary
Idéalsko called on the IDAIA Group to develop a:
Implementation of a multi-channel prospecting strategy

Identification of third-party retailers matching the customer's profile

Selection of targeted behavioral files (postal addresses)

Setting up a personalized media plan

Advice with selecting files & providing strategic support
Result
A well-filled client portfolio! Thanks to multi-channel, optimal prospecting campaigns
You too, commit your c
l

ients with the sponsor
01 44 51 66 99
Cost of a local call